Turn business data into real results
Don't predict future sales, but calculate conversion attribution. Use human behavioural facts to your advantage, by analysing what's really going on in the mind of your customers. This gives you the insight to strategically choose better automated mass marketing vehicles.
More sales!

Have your target audience buy more products, more volume and more frequently; exceed €1,000,000 gross revenue for Small and Medium Enterprises (SME's) or Corporate Marketing Campaigns.

More profit!

Improve the return on your business investments (ROI) with better strategy and planning.

Less cost!

Eliminate overhead costs, unnecessary waste and unprofitable pipelines from your business processes; save €20,000 per day.

Less risk!

Reduce chance of failure & loss to acceptable levels by combining your individual campaigns into the right portfolios and carefully assessing every opportunity and threat.
Your management makes better business decisions with confidence.
Formula for success
Mainly in the area of the sales & marketing of business / consumer finance and logistic/operational improvement, using my simple formula:
Big Business Targets

×

Scalable Enterprise Technology

×

Fact-Based Continuous Improvement

=

Lasting Enterprise Success
I'm always eager to adopt the best media technology and innovative approaches in getting results for your business or enterprise, and help you and your colleagues adopt those winning technologies and approaches too.
With an Agile/Scrum, iterative and scientific method in Business Analytics of Online Marketing and Digital Strategy, I'm here to help your company out in getting and keeping customers to buy financial products.
Media appearances
As seen on Dutch TV, as heard on Dutch Radio, as read in several Dutch newspapers and magazines.
Sp!ts Wonen - Vergroot je koopkansen anno 2013

NOS Radio 1 - Meer vraag naar Starterslening

Vastgoed Actueel - Oplossing voor de haperende woningmarkt

InFinance - Starterslening.nl blij met plannen minister

Algemeen Dagblad - Geld & Recht - Koophuis haalbaar met subsidie

Hart van Nederland

Etc.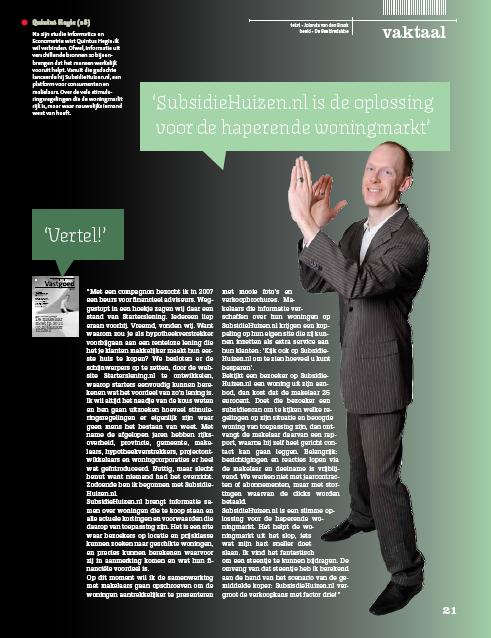 "Breakthroughs are never achieved alone but in co-operation with the best team"
Education
De Baak Management Traineeship (2007)
5× Intensive 2-day courses in Management Development, Learning Methods, Teamwork / Group Leadership, Communicating & Presenting and Professional Excellence

Welten Wft Basis Bedrijfsvoering C & Wft Consumptief Krediet C (2015-2016)
Compulsory certification on consumer finance and consumer loans for professionals active in the Dutch Banking & Financial Services industry
"Stay curious and never refuse to stop learning"
Professional
Proudly serving society since 1995 and as a Business Professional since 2006.
Business intelligence analyst in online marketing of financial products and services
Management by scientific research and operational improvement
Improving revenue/sales and minimizing risk/costs by factual analysis of big data and tool assisted automated decision support systems

Turning data into revenue

Also held positions in: corporate risk management, quantitative data analysis, assistant scientific research, dashboard / control panel programming, SEA/SEO expert, dating coaching, logistic services, computer game & web development, strategic marketing modelling

Small, mid-size and corporate clients industries: logistics services, building automation, real estate, mortgage / home financing, financial services, energy and utilities, art and culture, hardware sales, webshops / ecommerce, management services

Guest speaker and intern supervisor at colleges, universities and academic institutions

(Erasmus University Rotterdam, Hogeschool INHOLLAND Rotterdam, Hogeschool Rotterdam, De Haagse Hogeschool)

Co-author of two educational books, writer of several academic columns and book reviewer
"Love your work!"
Groups & associations
Visie Nederland – group of one hundred eleven (111) young professional leaders who shape the future of The Netherlands

ESE Alumni Association – group of senior positioned graduated academics with lots of grey - or no - hair (mentors)

RECNET / FAECTOR – econometric student association and young professional network

Inter Company Association (ICA) – company youth union of young professionals working at Dutch corporates (retired)
"In the end, it's the people that matter"
Languages
Dutch (native),

English (good),

German (intermediate)
Technology skills
Computer use:

Computer programming (computational, web/online, dashboards, games):

Digital marketing:

Itching interest in:
Leisure
Krav Maga, Argentine Tango, Hypnosis, Reading/Writing, Theatre/Arts, Movies/Documentaries, Travel/CouchSurfing (not all at the same time, though)
Upcoming Book
Upcoming Book: DiceWise - How to Choose Better

DiceWise

How to Choose Better

Corporates use Big Data and Predictive Analytics to make better decisions.

What strategy do you use to get the most results?

Upcoming book on how to use probability and chance to your favour.

Whether for personal or business success.
Hint: Looking for more great books for your professional library? Check out my reading list.
Testimonials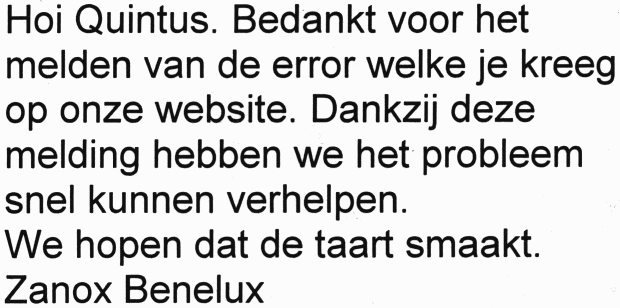 List of recommendations & testimonials
Company suggestions
I've personally worked with, consulted for, or visited the following companies that employ econometricians. In short, these companies are within my positive referral network and I'd recommend these companies to you:
Quantitative Logistics & Operations Research
Ab-Ovo
Fox-IT (Security)
Lynxx
NS
ORTEC
Quintiq
Quantitative Finance & Risk Management
ABN AMRO
Eneco
ING IM
Nationale Nederlanden
Rabobank
All-Round Econometrics & Data Science
Accenture
Atos
Capgemini
Veneficus
Quantitative Marketing & Business Analytics
ABN AMRO
Achmea
AEGON
Bol.com
C-motions
MI Company
Newcraft Group
Objective Partners
ORTEC Marketing
Pointlogic
Rotterdam School of Management
RTL Nederland
TNT
Wehkamp.nl
Reading list
If you are looking for a good (educational) book to read or video to watch, I would suggest you to pick one of the following:
Daniel Kahneman - Thinking, Fast and Slow
Dennis Wackerly, William Mendenhall & Richard L. Scheaffer - Mathematical Statistics with Applications
Edward L. Bernays - Propaganda
Erich Gamma, Richard Helm, Ralph Johnson and John Vlissides - Design Patterns: Elements of Reusable Object-Oriented Software
George S. Clason - The Richest Man in Babylon
Gerard Minnaar, Maarten van Hasselt, Martijn Ruissen - Zakelijke Kredietverlening
Henk C. Tijm - A First Course in Stochastic Models Book
John Maindonald & W. John Braun - Data Analysis and Graphics Using R
Laurence A. Wolsey - Integer Programming
Mike Hoogveld - The excellent customer journey experience
Napoleon Hill - Keys to Success
Napoleon Hill - Think and Grow Rich
Richard J. Larsen, Morris L. Marx & Bruce Cooil - Statistics for Applied Problem Solving and Decision Making
Robert Arnson - Handboek voor MS-DOS QBasic programmeurs
Sheldon M. Ross - Introduction to Probability Models
Steven Nahmias - Production and Operations Analysis
Vašek Chvátal - Linear Programming
Contact me
☎+31 6 21 677 103
quintus (at) quintushegie (dot) com


Connect on LinkedIn
Skype call to quintushegie
Rotterdam area, Zuid-Holland, The Netherlands
www.QuintusHegie.com
Dutch Chamber of Commerce #24444245
Available for: Get back in touch, New business opportunities, Employment positions, Research and project assignments, Speaking/presenting at events and conferences