[Dit is een verplichte mededeling]
Deze website bewaart cookies op uw apparaat om te kunnen functioneren, om uw bezoekgedrag te analyseren ter verbetering van de website en om advertenties af te stemmen op u als bezoeker.
Klik hier
om de volledige mededeling te lezen.
Doorgaan op deze website betekent akkoord.
Featured latest free* browser based game: Geek Trains™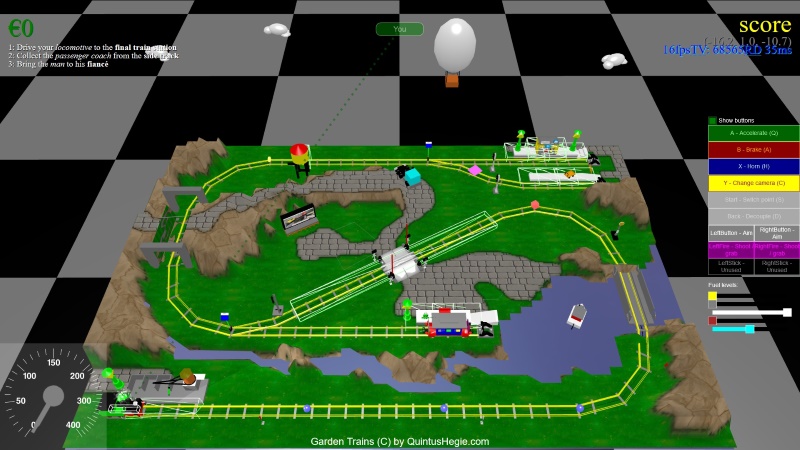 Be one of the first to play my latest flagship browser-based game called 'Geek Trains™'. This 3D train game is still in development, but this first Tutorial style level is mostly complete and working. Please allow some time to load (15 seconds to 3 minutes). If the game doesn't load at all or crashed, come back to this page after a few days and try again.
* Free as in: usage licensed as-is on this website, optional in-app purchases possible.
Other software programmed
Updated July 29th, 2018
Business

Online software

From 2008 onward I moved to mainly programming web application software with PHP / MySQL / Javascript (webportals) including optimization models. For some of the bigger projects more than €100.000,- tax subsidy was given by the Dutch government due to the innovative character of these webportals and online platforms. Please ask for my website portfolio for more details on website development and advice solutions.

I've developed some small business websites for clients like:

Hegie Vastgoed (Gouda) – Studio and apartment rental website

Cafetaria Willings (Gouda) – Local cafeteria

Dating Doctors® (Gouda) – Dating coach website with eCommerce solution

GlobalNeth (Gouda) – International non-government organisation for sustainable projects in under-developed countries

Stichting Kunstzinnige Vorming Rotterdam (Rotterdam) – Amateur theatre show Burlesk in Bird

GasShipping Optimization Model

GasShipping Optimization Model (in MATLAB®): A hourly volume profile for a gas portfolio (sample data).

GasShipping Optimization Model (in MATLAB®): A hourly imbalance volume profile for a gas portfolio (sample data).

GasShipping Optimization Model (in MATLAB®): A cumulative imbalance volume profile for a gas portfolio (sample data).

GasShipping Optimization Model (in MATLAB®): The hourly momentary buffer position for a gas portfolio (sample data).

Programming language

MATLAB

Operating system

Windows Server 2003

Release date

2008

Type

Financial computation model

Description

The hourly gas shipping allocations for the energy firm needed to comply with the regulations of the Network Supervisor. Also the allocated capacity may not differ too much from the real used capacity, otherwise penalties would be given to the gas shipper. A VBA-model, with lots of sheets and formulas, was turned into an easy to maintain automation script. Computation time was improved significantly and several gas portfolio's could be calculated and optimized at the same time. Computational results were both exported to a spreadsheet as well as understandably presented in graphs and charts for management. With the newly developed software, more savings could be achieved on avoiding penalties and by better pricing.

Value At Risk Energy Trading Model

Programming language

MATLAB

Operating system

Windows Server 2003

Release date

2006

Type

Financial computation model

Description

Using the mathematical programming language a financial model was turned into a automation script. With the Energy Trading Model the daily financial risk positions for the commodity portfolio (Energy, Gas, Oil) could be calculated. The thousands of Value-at-Risk positions were calculated in mere seconds, and when the model was done a user interpretable graph was displayed to give an overview of total risk. I.e. green is good low risk, red is bad high risk.

Commercial Spot Frequency Value Calculator

Programming language

Java

Operating system

Windows XP

Release date

2006

Type

Econometric optimization model

Description

Software written for my Master's Thesis that implemented a mathematical model for computing the Reach and Frequency for television spot time slot programming. The program loaded a commercial break schedule as well as viewer probability matrices (e.g. retrieved from a rating agency) and then outputted the best scheduling chances in XML.

Movie Scheduler

GUI Display in Excel of Best Solution Movie Schedule

Programming language

C++ / VBA

Operating system

Windows XP

Release date

2005

Type

Econometric optimization model

Description

Software written for my Bachelor's Thesis that implemented a mathematical model for allocating cinema movies to time slots in order to maximize ticket sales. The algorithm included the use of ILOG CPLEX software for column generation and branch and bound Lagrangian search. The output was written to XML and loaded back into a spreadsheet for management using VBA-code.

Data Point Editor

Programming language

Java (Niagara Baja Framework)

Operating system

Java embedded systems

Release date

2004

Type

Automation and productivity software

Description

The Data Point Editor is a GUI-tool for automating climate control embedded systems programming/configuration tasks. With the Data Point Editor building automation project manager can easily connect climate control devices like heaters, vents, lights and motion sensors, with software logic and room switches. Team productivity increased, projects were finished earlier and more business customers could be served. Over the years other colleague improved the Data Point Editor further.

PurpleSpy++

Loading screen of PurpleSpy++ background application

Programming language

Visual Basic

Operating system

Windows 95

Release date

2000

Type

Security software

Description

The application was designed to protect the computer lab environment for misbehaving high-school students. PurpleSpy++ runs on the background and monitors unusual activity by the user. Observations are reported in a log for the IT-staff. In a sense, the program made it possible to have Guest Users at your Windows 95 computer, without them damaging or removing your files.

Games

L-Trains

L-Trains running as Javascript in your browser. Moving around with LEGO® locomotives on a simple track.

Programming language

Javascript

Operating system

Browser

Release date

2017

Category

Train simulator

Objective

You control a train locomotive. You bring passengers to their destination stations. You have to avoid any enemy (computer controlled) trains that block your route.

Remarks

This 2D-game in Phaser has been superceded by the 3D version in BabylonJS.

Chip's Amazing Maze

Chip's Amazing Maze Level 3: Introducing elements like water, ice, force fields and fire and wearable shoes that allows Chip to move through these new elements (swim, skate, etc.).

Chip's Amazing Maze Level 4: Working with triggers, movable blocks and the first enemies (tanks).

Chip's Amazing Maze Level 5: New enemies like firebolts, saucers and balls, as well as special objects like bombs.

Programming language

Visual Basic / Visual C++

Operating system

Windows XP

Release date

2003

Category

Puzzle action tile game

Objective

You are a player called Chip and you are stuck in a maze. You have to find the exit tile in the maze, only using the arrow keys. Sometimes the exit tile is blocked by a chip socket. The chip socket can only be opened when enough computer chips (which are placed throughout the maze) are collected. The player can move over the regular tiles, but cannot pass solid/fixed walls. The player can push around moveable blocks, for example to kill creatures or turn water into bridges. You have to watch out for creatures that move around in the maze. The creatures follow a 'fixed' pattern or logic in their movement. Hence the puzzle to get by the creatures without being hit. There are several special tiles in the maze, such as ice, water, fire, dirt/gravel, key doors, teleports etc. You can also collect items such as keys (to open doors) and shoes (to walk over certain tiles). You have to complete the puzzle within a certain amount of time.

Remarks

This game is a remake of the popular Windows game Chip's Challenge. It comes with a level editor, where you can build your own mazes. Remakes of other people are available on the internet and in App stores. Object Oriented Techniques were used.

YoshiMod CTF4

YoshiMod CTF4 Screenshot of Game Type Introduction: A debriefing of the game type goal, and explanation of the various items in Capture The Flag 4 Teams mode and the new gameplay components.

YoshiMod CTF4 Screenshot of Loading Screen: Crediting the team of 5 script-developers who worked on the new gameplay mode.

YoshiMod CTF4 Screenshot of Starwolf Team Flag Base: An elevated Flag Stand, a Spawn Building Location and Watch Tower Spawn Location, Three Turrets and a Radar. The lake makes it possible to hide underneath the water surface from radar detection.

YoshiMod CTF4 Screenshot of Diamond Sword Team Flag Base: An elevated Flag Stand, two Spawn Building Locations, Three Turrets and a Radar. Entry to one of the base buildings is defended by a Slow Down Force Field.

YoshiMod CTF4 Screenshot of Blood Eagle Team Flag Base: An elevated Flag Stand, a Spawn Building Location and Watch Tower Spawn Location, Three Turrets and a Radar. The trees make it possible to hide and snipe.

YoshiMod CTF4 Screenshot of Phoenix Team Flag Base: An elevated Flag Stand, a Spawn Building Location and Watch Tower Spawn Location, Three Turrets and a Radar.

YoshiMod CTF4 Screenshot of a Settlement near a Lake. The settlement contains a NEXUS teleport inside the tower. The lake makes it possible to hide players and items from the enemy radar. Can be used to deploy a remote spawn/reload location.

YoshiMod CTF4 Screenshot of a Capturable Outpost: The Switch (waypointed) can be triggered to (re)capture the outpost. When captured, the team base is extended with a Vehicle Pad, a Watch Tower Spawn Location a Radar and a Turret. The team logo holding the capturable outpost is displayed above the Watch Tower.

YoshiMod CTF4 Screenshot of the NEXUS: A teleport device. When a player moves into a NEXUS teleport location, the player is immediately teleported to another (unblocked) NEXUS location.

YoshiMod CTF4 Screenshot of the StaleBreaker: Lethal when touched, unless all 4 Team Flags are carried by enemies. Then, all Flag Carriers die instantly when the StaleBreaker switch is touched by any player.

Programming language

Tribes 2 Script

Operating system

Windows 95/98

Release date

2001

Category

Multi player 3D network/online FPS game add-on

Objective

A new multi player match type is added to Tribes 2: Capture the Flag 4 Teams. Originally, Capture the Flag consisted of just 2 teams competing against each other. In total 64 players can play, but often the number was limited to a total of 32. The game is played in a 3 Dimensional mountain shaped world, in an area of about 2 by 2 kilometres, with artificial borders. Each team has a base, where a flag stands, and a set of combat players. Opposing teams need to grab the flag from the other team, and bring that flag back to their own flag base, in order to score a point. The team with the most points at the end of the battle time, wins the match. Teams can build and utilize tanks and combat planes to attack the opponents, as well as deploy turrets and wear special combat gear (packs/kits) to perform certain team tasks. Players that are killed, for example by gun or explosion, respawn back at the home base. The Mod makes it possible to have 2, 3 or 4 teams for Capture the Flag (coloured Yellow, Green, Red, Blue). The Mod adds teleports (nexus) to the game play. The Mod adds a base (White) to the battle field that can be captured (and recaptured) by the teams. The White base offers strategic advantages for the holding team, like extra turrets, power or respawn locations. When all flags are stolen, and thus no point can be scored by any of the teams, because first 1 flag has to be returned to the base, a stale occurs. A stale can be broken by moving your player to the deadly Stale Breaker switch (Black). When touched by a flag carrier, the opponent flag carriers instantly die and drop the flag. When touched by a non-flag carrier, all flag carries die and drop their flag. If there is no stale, the player dies on touch of the deadly Stale Breaker switch.

Remarks

The Mod included both client side as well as server side improvements. When not used in server mode, but in client mode outside the Capture the Flag 4 match type, cheats become available such as "auto-aim", "instant-missile-lock", "enemy-moveable-waypoints", "cloak-reveal" etc. The Mod was written in the scripting language which was made available by the game developers.

DogWars

DogWars 2nd Edition running as Javascript in your browser; testing out pickups, bombs, walls and enemies.

Programming language

Visual C++ (2nd edition: Javascript)

Operating system

Windows 95/98 (2nd edition: browser)

Release date

2001 (2nd edition: 2017)

Category

Fixed screen multi player fast action tile game

Objective

You are a player (main character: a dog). You can choose a player character, each character has its own unique 'power move'. You and up to 7 other contestants start in a match arena. The player is controlled by arrow keys and a few action keys (like placing a bomb, or performing a 'power move'). You can choose from several arena's, with different features and challenges. The arena is filled with solid walls and breakable blocks. You have to place bombs nears blocks to break through and create a passage and reach the other players. You have to wipe out the other players by fire blasting them with a bomb explosion. Some blocks contain items, such as more firepower, more speed, more bombs, etc. that become available when the block is blown up. Wiped out players re-appear at the screen sides, and they can come back into the playing field when they hit an active player with a thrown bomb. You win by wiping out all the other players first. You have to win the match within a specific amount of time. When the time is up, the arena rapidly destructs until one or no player is standing.

Remarks

The game used DirectX technology for fast gaming response. The game was programmed by two people: me and a computer programming friend of mine. The game featured graphics (sprites and blocks), sound and music, network play. The game uses Object Oriented Programming. In 2017, I made a 2nd edition of this game using the Phaser Javascript library.

Downhill

Programming language

QBASIC

Operating system

MS-DOS

Release date

1999

Category

Scroll action single player tile game

Objective

You are a skier. You start at the top of the mountain. You have to ski down the hill, where the finish line is. The cursor keys are used to ski faster or slower, and to move left or right. You have to ski on the snow, not on the rocks. When you hit rocks or other obstacles, you need to restart. There are several checkpoints, where you can restart in case you hit a rock, tree or fence.

Remarks

In earlier stages, the game was in black & white and the levels were randomly generated. Later on, colour and sound was added, as well as the loading of levels with new types of obstacles. The GUI is completely build up by ASCII characters. The game was presented at High School class, in the computer laboratory. The game is completely procedural written (using functions and GOTO lines).