[Dit is een verplichte mededeling]
Deze website bewaart cookies op uw apparaat om te kunnen functioneren, om uw bezoekgedrag te analyseren ter verbetering van de website en om advertenties af te stemmen op u als bezoeker.
Klik hier
om de volledige mededeling te lezen.
Doorgaan op deze website betekent akkoord.
My upcoming book
As of 2023 I am wrapping up writing the last parts of my latest book 'Wandel Jezelf Gelukkig'.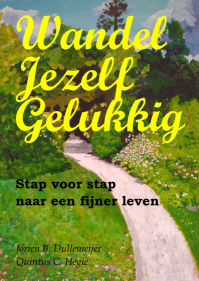 Discover more on the book's dedicated website
My reading list
Are you looking for a good (educational) book to read or video to watch? Then I would suggest you to pick one of the following:
Alan & Barbara Pease - The Definitive Book Of Body Language
Alexander Osterwalder, Yves Pigneur, Gregory Bernarda & Alan Smith - Value Proposition Design
Berry Veldhoen & Stephan van Slooten - Klant Helden® in de 9+ organisatie
Bradley Bargen & Terence Peter Donnelly - Inside DirectX
Brian Tracy - The 100 Absolutely Unbreakable Laws of Business Success
Chip & Dan Heath - Made to Stick
Dale Carnegie - How to Win Friends and Influence People
Dan Ariely - Predictably Irrational
Daniel Goleman - The New Leaders
Daniel Kahneman - Thinking, Fast and Slow
Dennis Wackerly, William Mendenhall & Richard L. Scheaffer - Mathematical Statistics with Applications
Edward L. Bernays - Propaganda
Erich Gamma, Richard Helm, Ralph Johnson and John Vlissides - Design Patterns: Elements of Reusable Object-Oriented Software
George S. Clason - The Richest Man in Babylon
Gerard Minnaar, Maarten van Hasselt, Martijn Ruissen - Zakelijke Kredietverlening
Gertjan Laan - Aan de slag met C++
Henk C. Tijm - A First Course in Stochastic Models Book
Imi Sde-Or & Eyal Yanilov - Krav Maga: How to Defend Yourself Against Armed Assault
Jay Abraham - Getting Everything You Can Out of All You've Got
Jim Camps - Start With No
Jim Collins - From Good to Great
John Maindonald & W. John Braun - Data Analysis and Graphics Using R
Jonas Ridderstr&adot;le & Kjell Nordström - Karaoke Capitalism
Keith Johnstone - Impro
Laurence A. Wolsey - Integer Programming
Mike Bosworth, John Holland and Frank Visgatis - Customer Centric Selling
Napoleon Hill - Keys to Success
Napoleon Hill - Think and Grow Rich
Peter J. Kovach & Jeffrey Richter - Inside Direct3D
Rhonda Byrne - The Secret
Richard J. Larsen, Morris L. Marx & Bruce Cooil - Statistics for Applied Problem Solving and Decision Making
Robert Arnson - Handboek voor MS-DOS QBasic programmeurs
Robert Cialdini - Influence
Robert T. Kiyosaki - Rich Dad Poor Dad
Roemer Lievaart - (Speel)Films maken
Roger Hamilton - WINK
Sheldon M. Ross - Introduction to Probability Models
Stephan van Slooten, Berry Veldhoen, Wilfred Achthoven, Joep van Rensch, Bart van Ratingen - Basisboek Customer Journey
Stephen Covey - The 8th Habit
Steven Nahmias - Production and Operations Analysis
Vašek Chvátal - Linear Programming
William Arntz, Betsy Chasse and Mark Vicente - What the Bleep Do We Know!?
Book review needed?
Do you have a great book title to recommend me that fits into my library? I can write a professional review about that book if you want. Please do contact me on

LinkedIn.